Almost 500 pilot whales have been beached and about 380 have already died in what may be Australia's largest stranding on record.
An estimated 270 long-finned pilot whales were originally spotted on Monday near the remote town of Strahan on the west coast of the island of Tasmania.
Another 200 were found on Wednesday about 6 miles south.
From the air, it appeared as if all the whales were dead but after further investigation, it became apparent that a number were still alive.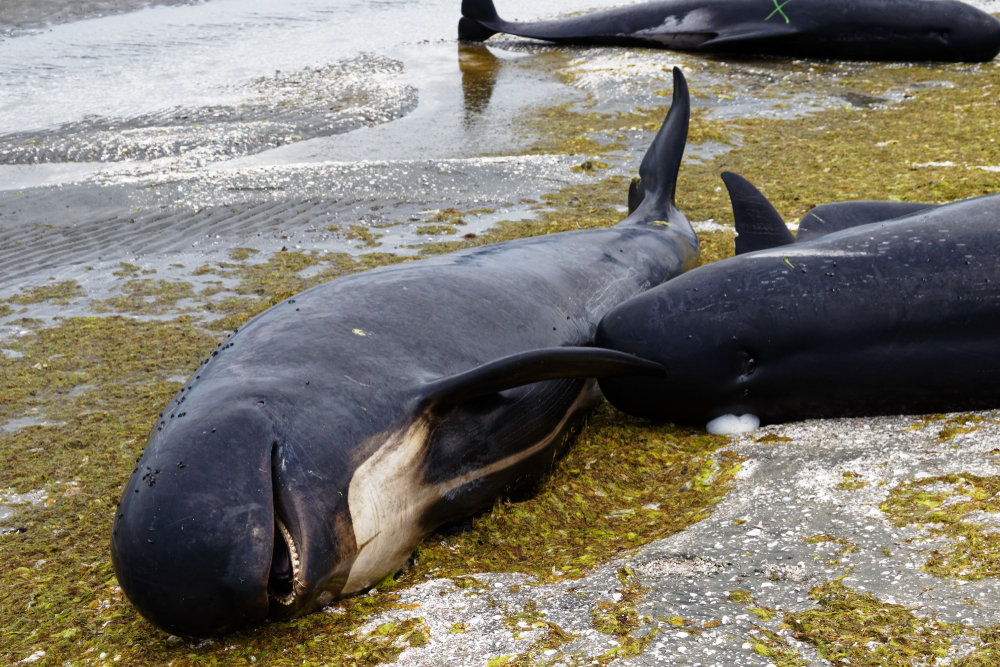 A large scale rescue operation began by Tuesday morning with rescuers working against the strong tide and geographical challenges … while being uncertain how the whales would respond after being refloated.
With at least a third of the whales in the first group already dead, the rescue team began working against the clock and had to triage the helpless animals … saving those with the best chance of survival.
About 60 volunteers from the area jumped in to help … including police and local fish farmers who provided boats and equipment to pull any surviving whales off the sandbanks so that they can be brought back to water and "refloated." If that went well, the whales were guided back to deeper waters.
Rescuers are saying the surviving whales have been remarkably calm … and that they have successfully saved 50 whales.
Thankfully, the cool weather and wet conditions are helping some whales survive a few days … buying time so that rescuers can work hard to save as many as they can.
At Karmagawa and SaveTheReef, we're sad so many of these whales have died … and we're rooting for these awesome people that are sacrificing to help any defenseless survivors.
Please follow us on Twitter and Instagram so that you can stay updated. Also, share the information with your family and loved ones so that they can stay informed.
Have them watch this powerful video …
The director of this video, Amir Zakeri, created a masterclass for anyone in the Karmagawa and SaveTheReef community who would like to use film to make the world a better place. If you're interested, here's 50% off.  
All proceeds go to great causes, so don't hesitate. Get started now! 
What do you think about all these beautiful pilot whales being stranded and dying? Leave a comment below.