Two young elephants go into a violent fight as they were being forced to perform in front of spectators at a Russian circus in Kazan recently.
According to reports, the chaotic scene started when a female elephant named Jenny butted another one named Magda, knocking her to the ground. Jenny then tried to trample Magda as children and their parents panicked and rushed outside, forcing the show to be canceled.
The devastating display occurred at the Kazan State Circus in a show called "The Show of Elephants and the Magic of the Circus."
Watch this shocking video …
As you can see, one of the trainers tried to control the situation by jabbing at Jenny's leg with what looks like bullhooks.
Apparently, it wasn't the first time because it's being reported that the same two elephants got in an altercation five years ago.
Although no people were reportedly hurt, this incident points to the cruelty animals experience when they are forced to perform unnatural acts such as dancing for human entertainment. They are separated from their mothers at a very young age and are continuously beaten and tortured, breaking their spirits.
A lot of performing animals are put into cramped cages and become mentally unstable due to terrible treatment and horrible living conditions. The methods that are used to train them are often inhumane, causing erratic and aggressive behavior.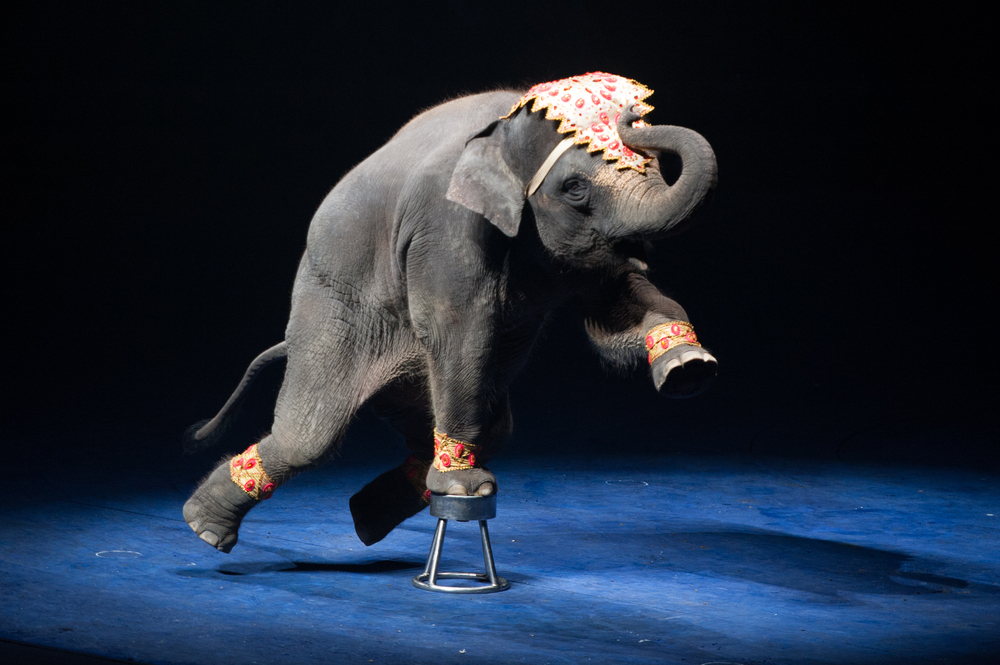 At Karmagawa and SaveTheReef, we are saddened by this incident because it shows that the elephants were not happy. Animals that aren't allowed to live their lives freely and follow their own natural instincts, suffer both physically and mentally.
One thing we could do to help is to not support these shows. We have to do better so that all animals have a chance at a happy life!
Do you want to stay informed of news and events about animals and the environment from around the world? Please follow us on Twitter and Instagram and we'll keep sending you more updates. Share our information with your friends and family so that they stay aware, as well.
Do you have stories that you want to expose through video? If so, movies are a powerful way to get your message out.
Our friend and pro filmmaker Amir Zakeri created an online class for us to help the community learn how to create their own movies and documentaries — here's 50% off.
You'll be helping important causes, so don't hesitate. Get started now.
What do you think about these two poor elephants being forced to live a life of entertaining people? Leave a comment below.
(Cover image: Andrea Izzotti/Shutterstock)