A poor innocent baby Sumatran elephant has died after losing half its trunk when it got caught in a trap that was set by poachers in Indonesia.
Take a look at these heartbreaking pictures from a recent post we did on Instagram:
What Happened?
The year-old calf was left behind by her herd after she was caught in a snare trap. Nearby residents from the village of Alue Meuraksa found the suffering baby elephant and tried to help her by bringing her to a conservation agency near Banda Aceh, the provincial capital, to be treated.
The caretakers at the agency tried to save the poor animal's life by performing a life-or-death operation. It involved amputating her trunk which was getting rotten and no longer functioning … but it was too late. Despite their efforts to heal and rehabilitate the baby elephant, she was too weak and succumbed to an infection from the injuries just two days later on November 16.
The death was shocking to wildlife officials because she seemed to be responding well to treatment and was actively moving. The officials believe the stress was just too much for her.
This young elephant's death is the most recent in a string of poaching-related deaths. The latest one before this was in July of this year when an adult elephant was found decapitated with its tusks ripped off at a palm plantation in East Aceh. Thankfully, police were able to arrest a suspected poacher along with four people who are accused of buying the ivory stolen from the dead animal. If they're found guilty, they face up to five years in prison and a fine of 100 million rupiah — which is about $7,004.
Why Are These Horrific Things Happening?
Unfortunately, this isn't a one-off case. These incidents are happening regularly and now the Sumatran elephant population has shrunk from 1,300 in 2014 to now just 693 on Indonesia's Sumatra Island. That's nearly 50% down in just the past seven years. In the whole world, the Sumatran elephant population is believed to be between 2,400 and 2,800.
These elephants are being targeted primarily by poachers who want their ivory tusks, a type of elongated tooth essential to the animal's survival. The World wildlife fund estimates that about 20,000 elephants are killed illegally for their tusks every year.
Sumatran elephants are a subspecies of the Asian elephant, one of two species of the large mammal in the world. They are listed as critically endangered by the International Union for Conservation of Nature (IUCN) because their numbers have been rapidly dwindling due to reasons such as deforestation, elephant-human conflict, and ivory poaching.
Experts believe the coronavirus pandemic has made matters worse and that there has been an increase in poaching in Sumatra as locals have turned to elephant hunting to earn money. In the East Ache district alone, the number of Sumatran elephants that have died due to being snared and poisoned has grown to 25 in the past nine years.
What's sad is that this snare may not have even been meant for elephants. Snare traps are common throughout the rainforests of Southeast Asia and are typically made of steel or nylon wire. They are usually set for bushmeat like wild boar or deer but the devices are indiscriminate with what they catch. Many non-target species get caught unintentionally.
Recent studies have shown that snaring by hunters is a much greater threat to the survival of Southeast Asia's threatened wildlife than deforestation and forest degradation. Most of the trapped animals end up in local wildlife markets or are sold directly to restaurants. The animals that are considered high value are typically traded in major cities or exported to foreign markets.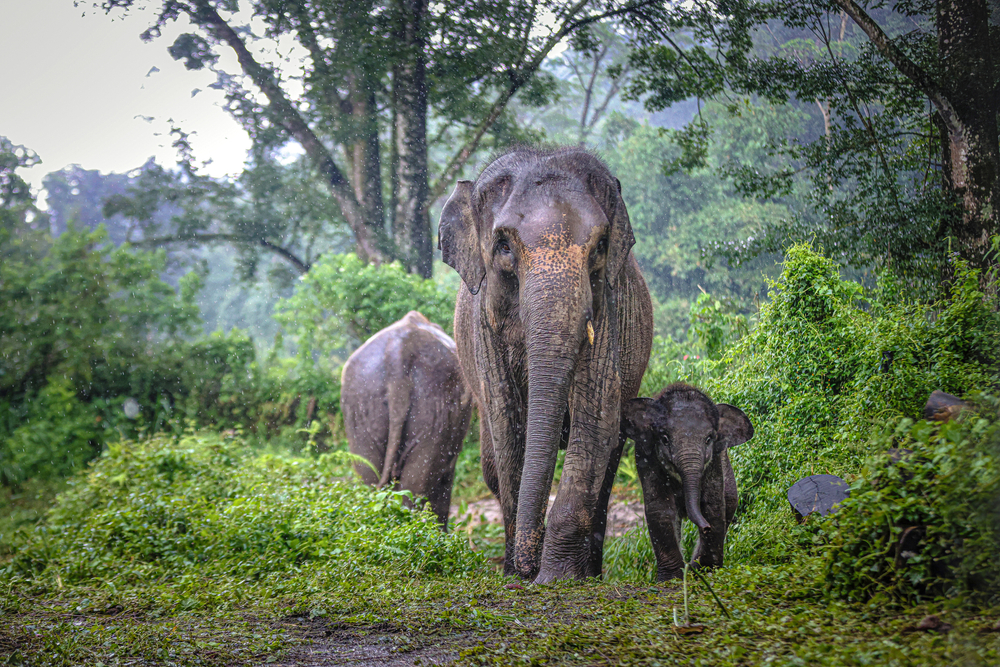 At Karmagawa and SaveTheReef we're so tired of hearing stories like this that happen too often. The poor baby was too young to have tusks and was just living her life in her natural habitat. Because of this cruel poaching tactic, she will no longer be able to live and grow with her family. We must do what we can to let the world know this is going on so that we can put a stop to it!
Do you want to know what is going on around the world in regards to the environment and its beautiful animals? Please follow us on Twitter and Instagram and we'll keep sending you more updates about animals and the environment from around the world. Share our information with your friends and family so that they stay aware, as well.
Do you have stories that you want to expose through video? If so, movies are a powerful way to get your message out.
Our friend and pro filmmaker Amir Zakeri created an online class for us to help the community learn how to create their own movies and documentaries — here's 50% off.
You'll be helping important causes, so don't hesitate. Get started now.
What do you think about the needless and cruel death of this poor baby elephant? Leave a comment below.
Cover Image: ElAzwar/Shutterstock