Monkeys are being forced to perform and entertain tourists in Indonesia.
The monkeys are made to wear costumes, walk on stilts, and even ride motorbikes.
Check out this shocking footage …
Reportedly, when these monkeys aren't being used to entertain tourists, they're carried around in metal chains, handled roughly, and kept in dark cages.
This controversial form of entertainment is very common in Asian countries and is known as monkey mask. It is considered a traditional art form and can be found in Cambodia, China, India, Japan, Korea, Thailand, and Pakistan. The audiences mostly consist of children.
It involves a handler that trains the animals to perform various activities, a lot of time mimicking human behavior, such as wearing outfits and going out shopping. Also, many of the performances are done around residential areas.
Monkey mask performers can earn anywhere from 75,000 to 150,000 rupiahs in a single workday, which is $5.26 to $10.52 in U.S. dollars.
The poor animals are paraded through the streets on stilts to "entertain" passers-by and tourists to simulate a good time. Behind the scenes though, these monkeys are said to look very sad.
Various conservation groups are coming against the cruel practice and protesting against monkey street attractions.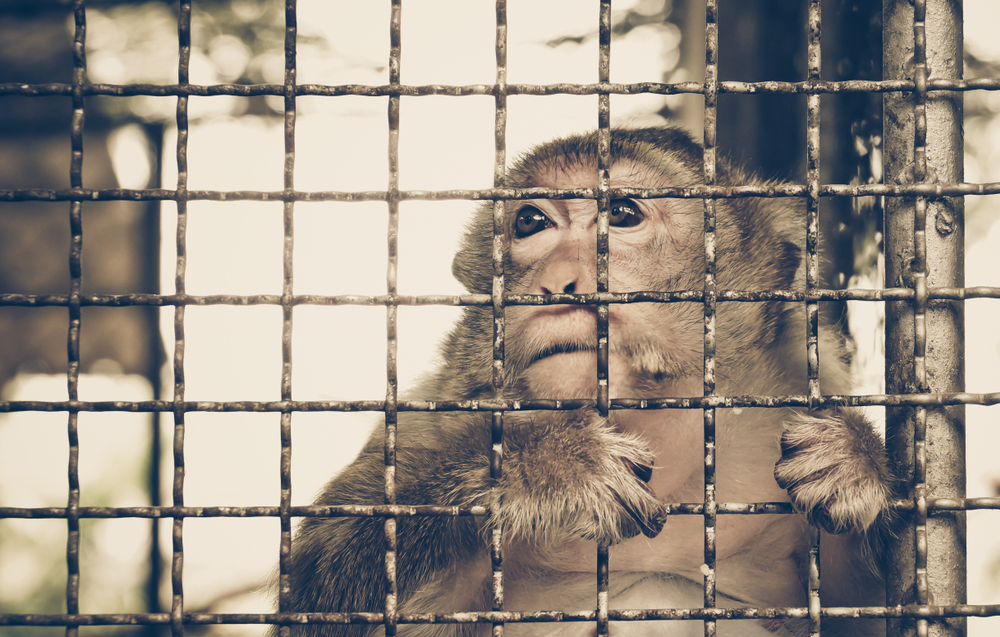 At Karmagawa and SaveTheReef, we're using our channels to let the world know that this is going on. Someone has to speak up for these poor abused animals and put a stop to this animal cruelty. We believe if we continue to shine a light on what is going on … and if people continue to learn, we could put an end to the suffering of more animals.
Would you like to keep learning about what is happening to animals around the world? Please follow us on Twitter and Instagram and we'll send you more news and updates. Share our information with your friends and family so that they stay aware, as well.
Do you have causes that you want the world to know about? If so, movies are a powerful way to get your message out.
Our friend and pro filmmaker Amir Zakeri created an online class for us to help the community learn how to create their own movies and documentaries — here's 50% off.
You'll be helping important causes, so don't hesitate. Get started now.
What do you think about these poor monkeys being forced to live this cruel lifestyle? Leave a comment below.