We did a post on Instagram showing a day in the life of Mosha at the world's first hospital for elephants in Thailand.
Check it out here …
When Mosha was a tiny calf, she stepped on a land mine and lost her front right leg.
When orthopedic surgeon, Dr. Jivacate met Mosha, he was moved to help her and decided to invent the first artificial leg for elephants. He had created thousands of prosthetic limbs — but never for an elephant.
Because there was no manual to create a prosthetic limb for such a large animal, Dr. Jivacate had to rely on his experience and learn through trial and error. As Mosha grew, the good doctor continually fitted Mosha with new prosthetics to adjust to her increasing weight. He used each time to improve the model, experimenting with different materials to make it more sturdy. The first model was given to Mosha in 2007 and was made from plastic, sawdust, and metal.
Dr. Jivacate and Mosha made history with the success of the prosthetic leg and it helped veterinarians fit other elephants with similar injuries.
Mosha has developed a very close bond with Dr. Jivacate who says she salutes him when he visits.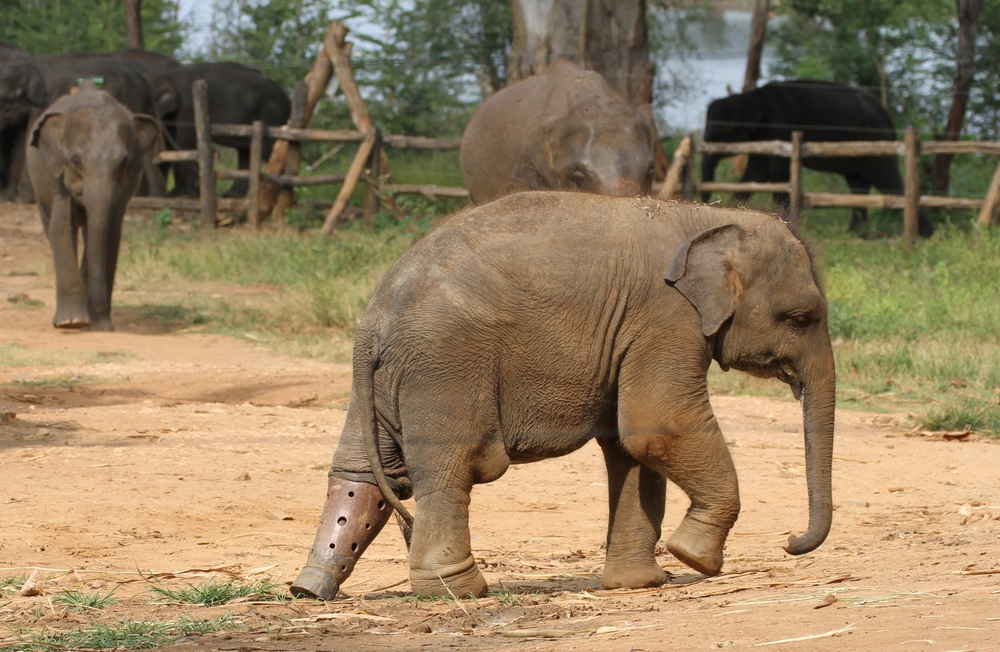 At Karmagawa and SaveTheReef we love this story! With a little innovation and love, we can do so much to help all the living things on our planet. We need to work together so that we can make our world a better place to live!
Do you like this story? Then please follow us on Twitter and Instagram for more news and updates about animals from around the world. Share our information with your friends and family so that they stay aware, as well.
Do you have causes that you want the world to know about? If so, movies are a powerful way to get your message out.
Our friend and pro filmmaker Amir Zakeri created an online class for us to help the community learn how to create their own movies and documentaries — here's 50% off.
You'll be helping important causes, so don't hesitate. Get started now.
What do you think about Dr. Jivacate's work to help Mosha live a better life? Leave a comment below.
(Cover image: iacomino FRiMAGES/Shutterstock)