Three elephants were killed while trying to cross old train tracks in Southern India. Take a look at these devastating photos that we posted on our Instagram account recently.
The horrific accident happened when the poor elephants were crossing a railway track near Marappalam thottam on A-Line between Walayar and Madukkarai sections on Friday night. It was then when a speeding train named the Mangalore-Chennai Express crashed into them. The train pilot stopped the locomotive and reported the incident to the Palakkad division of Southern Railway so that they could inform the forest department.
One of the elephants that were hit was found on the track after the accident. The two others were thrown off the track and onto the ground below. The ages of the deceased elephants are estimated to be 12, 18, and 25 years.
Similar Incidents Are on the Rise
Unfortunately, this isn't an isolated case. The number of elephants that are getting killed by trains has been rising at a shocking level in India for the past several years. There has been an increase in the frequency of train traffic, including at night through forested areas.
This past May, India's Ministry of Environment, Forest, and Climate Change (MoEFCC) reported that a total of 186 elephants have died due to accidents with trains in the country between 2009-2010 and 2020-2021. In 2016, eleven wild elephants died in this manner.
The project Elephant Division of the Ministry did a report and according to their data, Assam accounts for the highest number of elephant casualties on railway tracks with 62 incidents. West Bengal is a close second at 57 incidents and Odish is third at 27.
This latest incident has angered many elephant lovers and has really increased tensions between environmentalists and train and government officials.
What Can Be Done To Help?
Kerala's Palakkad railway division, along with Tamil Nadu forest officials, have decided to erect electric fences in vulnerable stretches of railway tracks to prevent elephants from crossing train tracks. The forest department is taking cues from the successful use of the technology at Nagarahole forest of Karnataka. With the support of Kerala's forest department and the Southern Railway, Palakkad division, they hope to implement an effective solution to protect elephants in vulnerable areas between Kanjikode to Madukkarai.
According to forest officials, Railways will provide old rails to be used for the fences and a grant is expected from the Tamil Nadu state government to cover expenses for the installation project.
Night watchmen will also be hired by the Tamil Nadu forest department for day and night patrolling. Until the fencing project is completed, the watchmen will patrol day and night to keep elephants away from danger.
More Help Is Needed – Donate To Help
As you can imagine, more needs to be done to make sure no accidents like these happen again.
Thankfully, new technology is emerging. Voice for Asian Elephants Society (VFAES) is a wonderful organization that has a new early warning sensor system called EleSense. The system alerts train drivers of nearby elephants so that they can do what they need to protect the gentle giants. The system also alerts elephants of oncoming trains so that they can get out of the way.
To date, there have been 130 such devices installed but we need more. We are collecting money for VFAES to get these systems installed and protect more elephants. Please join us by donating money to Karmagawa. We give 100% of donations to these incredible charities so that we can help make this world a better place.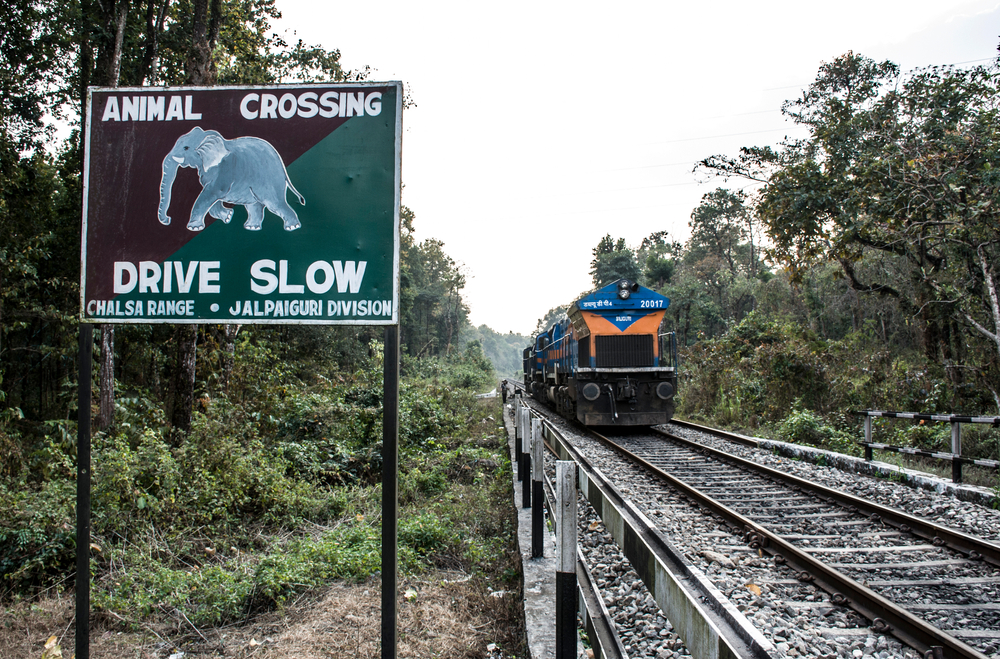 At Karmagawa and SaveTheReef we are so sad that these three elephants died such a tragic death when they were only moving around in the environment that they called home. No animal should have to experience this. We have to do what we can to protect them because the planet needs the continued existence of these beautiful creatures.
Do you want to know what is going on around the world in regards to the environment and its beautiful animals? Please follow us on Twitter and Instagram and we'll keep sending you more updates about animals and the environment from around the world. Share our information with your friends and family so that they stay aware, as well.
Do you have stories that you want to expose through video? If so, movies are a powerful way to get your message out.
Our friend and pro filmmaker Amir Zakeri created an online class for us to help the community learn how to create their own movies and documentaries — here's 50% off.
You'll be helping important causes, so don't hesitate. Get started now.
What do you think about the horrific death this family of elephants experienced? Do you think we should use the technology we have to save this species? Leave a comment below.
(Cover Image: Candy_Plus/Shutterstock)