Severe drought conditions have led to the deaths of 6 poor giraffes in the Sabuli Wildlife Conservancy. We posted some videos and heartbreaking photos on our Instagram account.
Why Did the Giraffes Die?
These images are devastating and show six giraffes lying lifeless at the conservancy located in Wajir, Kenya.
It's being reported that the group of giraffes got stuck in the mud and died. They were already weak from starvation and thirst due to the severe drought so they wanted to get some water from a nearby reservoir that had almost dried up.
Sadly, the beautiful animals were unable to free themselves and lost their lives. To prevent contamination of the remaining water of the reservoir, the bodies of the deceased giraffes have been moved to a different location.
A Terrible Drought
The region has received less than a third of its normal rainfall since September, leading to a prolonged drought and shortage of food and water. The lack of rainfall has had a big impact on the region's wildlife and has even pushed its livestock to the brink.
This is the worst drought since 2011 and at least 70 percent of cattle have died so far. The countries of Kenya, Ethiopia, and Somalia have been the most affected and residents are reporting that there is not enough pasture and water for the wildlife to survive.
According to experts, 4,000 giraffes in Garissa county are at risk of being wiped out by the intense drought that is sweeping the area.
Giraffes Are in Danger
There are nine types of giraffe and they are distinguished by their coat patterns. They are known for being the tallest animal on the planet and they play an important role in the environments that they live in. An adult male can grow to about 18 feet!
They are also fast and can gallop at a speed of about 37 miles per hour over a short distance. Over a longer distance, they can reach speeds of about 31 miles per hour.
Giraffes are also resilient and can survive for 2-3 days without drinking water because they get their water from their food and dew on plants.
These gentle giants are very social and live in herds of 15-20 female giraffes with some young males. The male calves leave their mothers and herd at about 15 months old. They then join bachelor herds with other young males. Female calves, on the other hand, tend to stay with the same herd as their mothers before leaving at the age of about 18 months. They tend to stay in the same areas as the family herd they grew up with.
Females are ready to mate at about four years old and have a gestation period of 15 months. When a calf is born, it has a whopping five-foot drop to the ground!
Unfortunately, the number of giraffes has fallen by 40% in the past 15 years across the continent of Africa. In some populations, the numbers have plummeted by as much as 80%.
The biggest threats to their survival are habitat loss, human population growth, war, poaching, civil unrest, and disease.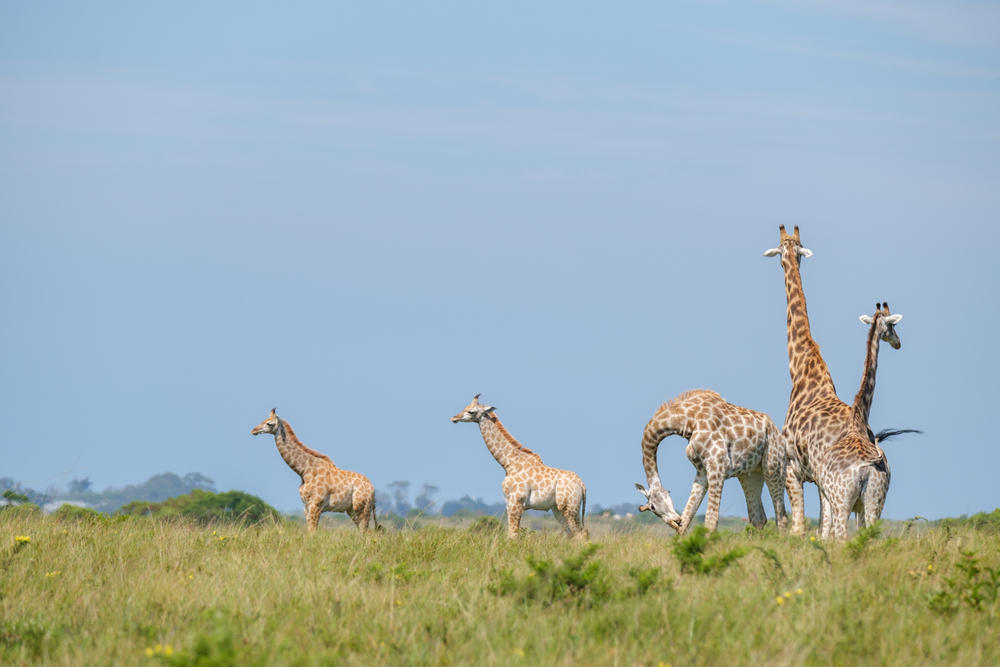 At Karmagawa and SaveTheReef we think this gorgeous species is absolutely majestic and we were horrified to see these images. We're doing what we can to let the world know of the challenges animals like these are facing. If more people know that our animals are in danger, the more caring people can do something about it.
Do you want to know what is going on around the world in regards to the environment and its beautiful animals? Please follow us on Twitter and Instagram and we'll keep sending you more updates about animals and the environment from around the world. Share our information with your friends and family so that they stay aware, as well.
Do you have stories that you want to expose through video? If so, movies are a powerful way to get your message out.
Our friend and pro filmmaker Amir Zakeri created an online class for us to help the community learn how to create their own movies and documentaries — here's 50% off.
You'll be helping important causes, so don't hesitate. Get started now.
What do you think about this group of giraffes being stuck in the mud and dying when they were just trying to get some water to quench their thirst? What can we do to help other countries in protecting animals? Leave a comment below.
(Cover Image: Volodymyr Burdiak/Shutterstock)