Loopholes in laws — and lack of enforcement — are bringing lots of opportunities for captive tiger facilities to enter illegal trade deals for tiger body parts across the European Union (EU), according to a new report published by wildlife groups.
The population of wild tigers has been terribly depleted because of habitat destruction and the demand for their body parts that are used for medicines, different types of decoration, and even wine.
In fact, there are way more tigers in captivity than those that are roaming free.
While there are less than 4,000 tigers in the wild … the captive tiger population is estimated to be over 13,000.
Take a look at this poor captive tiger being tormented by a tourist …
The loophole comes from mounting evidence that captive facilities — which are legal — are breeding tigers for body parts to be used in products.
According to the report, 43 tigers were determined to be exported from the EU for commercial purposes between 2013 and 2017. During the same time period, there were 95 reported seizures involving live tigers or their body parts. 94% of the items recovered during these seizures were medicinal products containing tiger derivatives.
Although there are restrictions against tigers being bred for trade in parts and products, inspections at facilities are infrequent and with minimal government oversight.
Last year, 10 tigers were found crammed into the back of a truck by Polish border authorities. One died and the rest were emaciated, covered in feces, and extremely stressed.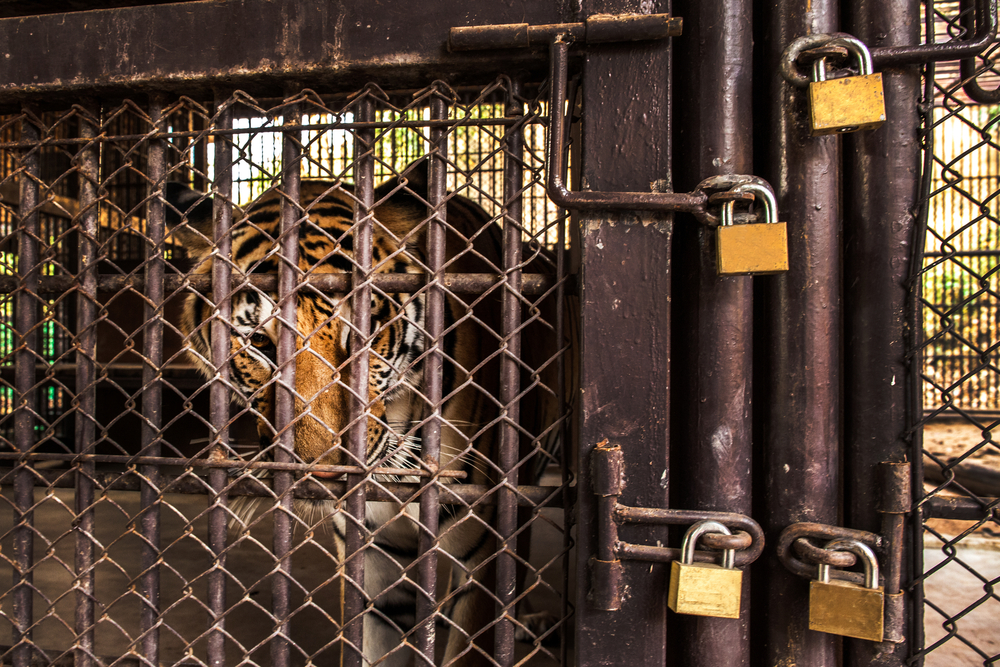 At Karmagawa, we're bothered that there aren't more regulations and checkpoints to protect these beautiful giant cats. We're also upset that the number of captive tigers far exceeds free ones.
We have to make sure more people know about this so that changes can be made.
Follow us on Twitter and Instagram for more updates … and share our information with your family and friends so that they can stay informed.
Have you ever wanted to make documentaries of animals that need help and attention?
If so, pro filmmaker Amir Zakeri created a masterclass for us to help the community learn this skill — here's 50% off.
You'll be helping important causes, so you can feel doubly good about your investment. Get started now!
What do you think about the illegal trade of tigers? Comment below.
(Cover image: Alexander Khitrov/Shutterstock)