Check out our recent Instagram post detailing the heroic rescue of 78 dogs bound for slaughterhouses in Indonesia.
We first reported about this rescue in May, when the dogs were seized from illegal dog meat traders. Now there's more good news: the traders will be prosecuted in a historic move for Indonesia. This is the first seizure and trial of its kind.
Of the 78 dogs that were rescued, 63 survived the cruel conditions as they were transported, bound and gagged, to a slaughterhouse. Those who survived the conditions of the long trip and the rescue were given proper veterinary treatment and placed in foster homes. The surviving dogs are now thriving and waiting to be placed in their forever homes.
Each year, millions of dogs and cats are taken from the streets or from loving homes and traded in this barbaric industry. The trips to the slaughterhouses can take many days, and many animals die of hunger, thirst, injury, or stress before they make it to their cruel destination. Those that do survive the brutal journey face a painful death by drowning, bludgeoning, or being cooked alive.
Besides the horrible treatment and painful deaths these animals face, stalls selling dog meat are breeding grounds for disease and sickness. Because these animals are captured off the streets, they have no proof of vaccination or veterinary care. Many of the animals pick up or spread diseases on their way to the slaughterhouses.
This is big news for the illegal Indonesian dog meat trade. If found guilty, the traders could face up to 5 years imprisonment or a fine of up to 4 billion IDR (about $250,000). This trial is just the beginning of the fight. There are thousands of trucks transporting dogs all over Indonesia, and hundreds of thousands of dogs and cats are brutally slaughtered every month in this illegal trade. Polls show that only 4.5% of Indonesia's population consumes dog meat, and most who sell it do not rely solely on the meat for profit.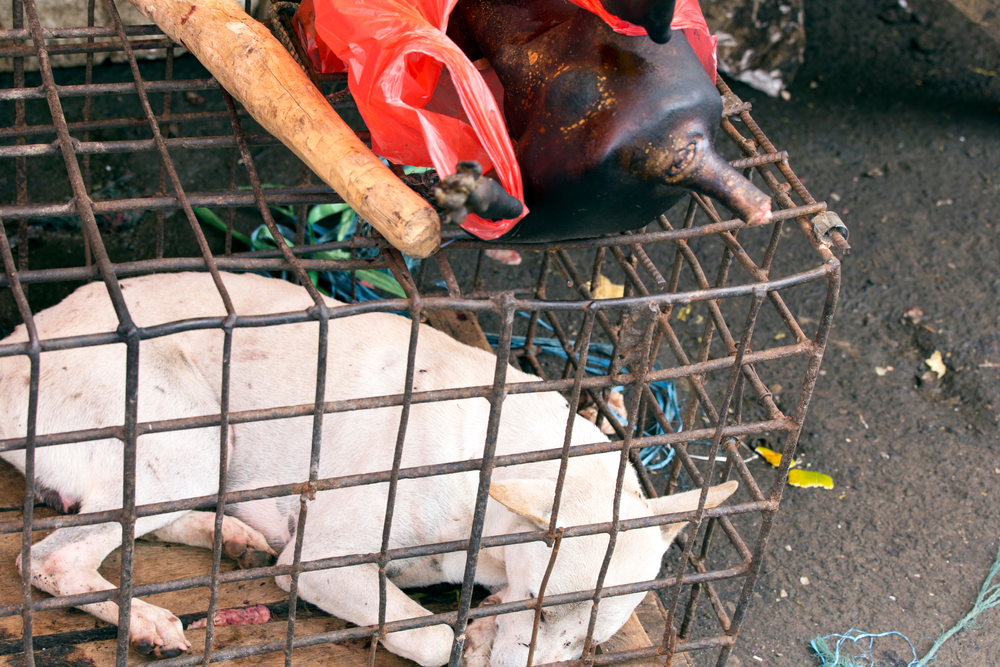 At Karmagawa and SaveTheReef we stand with organizations that are working to end barbaric practices in our world like this one. Check out some of the organizations we support here!
Our fundraiser for Afghanistan is still going on! Proceeds will be matched, dollar for dollar, and will be directed to Team Rubicon and Rainbow Railroad in addition to Partners Relief & Development and Save the Children. Do what you can by donating now! Don't forget to share this link with others so many more can have the chance to make a difference!
Stay informed of news and events about animals and the environment from around the world by following us on Twitter and Instagram. Share our information with your friends and family so that they can stay aware and voice their opinions too!
What do you think about this rescue and trial? Leave a comment below and let us know your thoughts!
(Cover image: Eky Studio/Shutterstock)